Experience shows that a majority of the costs of an Internet presence are incurred in updating and managing the content. The actual creation of websites (programming, design, server installation, etc.) causes a relatively small share of the costs.
The structure of modern websites, however, has become so complex that you have to rely on expensive professionals to maintain your presence. On the other hand, outdated information on your homepage is not exactly the best advertisement for your company.
To counteract this problem, we often use a so-called CMS (Content Management System) even for smaller web presences.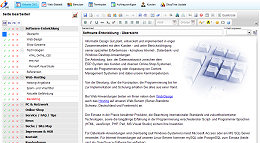 The CMS supports you in maintaining your website and enables you to update complex web pages quickly and cost-effectively without any programming knowledge.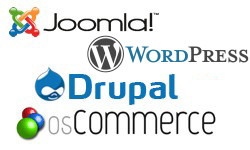 We are happy to support you with the installation and configuration of various content management systems (e.g. Joomla!, Drupal, WordPress, osCommerce), according to your wishes and needs.
For special tasks, we also offer our own development of a CMS, with which special design wishes can also be realized. The core part of the CMS, the page editor, is an OpenSource module, which is also available for other CMS (e.g. for Drupal or WordPress) or can be integrated relatively easily. The page editor works similar to your usual word processor and provides special functions for images, tables, links, etc.. A module for uploading the images or documents to the web server is also included.